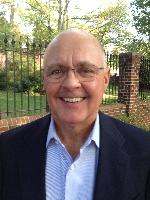 "The joy of coaching for me is the continuing confirmation that people are creative, resourceful and whole.  The delight for those with whom I work is the discovery of that reality in themselves."
Rev. David Argo is an experienced, insightful, and accomplished leader who  has served as a pastor, district superintendent and director of connectional ministries. In each position he has grown churches, a district and ministry. He has been coaching pastors, district superintendents and conference staff persons  since 2006.  He is  sought out as a coach and consultant because of his reflective insight, steadfast integrity and his ability to effectively and pragmatically resource congregations. Leaders report his effectiveness in coaching them to excel in leading and to grow their capacity for leadership.
David  received his training through The Coaches Training Institute and other International Coach Federation approved programs. He also holds a PhD in Sociology of Religion from The American University in Washington, DC.
David and Linda have three grown children and 8 grandchildren—the three oldest spend the summer with him in Ogunquit, Maine, while the newborns have him as a nanny to help out their parents. He is an avid swimmer and a white-water kayaker.
COACH WITH DAVID
SCHEDULE WITH DAVID
EMAIL TO SCHEDULE
---
DAVID ARGO, ACC
BACK TO ALL COACHES