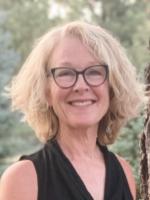 "The magic of coaching is the way in which small steps, chosen over time, create a transformative trajectory.  I have repeatedly seen the power of a coaching relationship to optimize personal wellbeing as well as effectiveness in ministry.  Even more, coaching is creative, playful, and downright fun!"
Rev. Dr. Vicki Johnson, ACC, served for 30 years in the United Methodist Church in a wide variety of ministry settings—small and middle sized churches, clergy couple co-pastorate,  associate pastor on a large church staff,  district superintendent, and nine years as senior pastor of a multi-staff, downtown church.  Through her current work as an ICF certified clergy coach and associate coach trainer, Vicki pursues her passion for helping churches and pastors flourish.
A dedicated life-long learner, Vicki is also trained and certified as an interim ministry specialist, spiritual director, and yoga instructor.  Now residing in East Texas, she enjoys pilgrimage travel (one day again!), reading historical fiction, mountain biking and hiking.  Together, she and her husband Roger, have 7 children and 8 grandchildren.
Vicki's recently launched coach approach curriculum, The Art of WellBeing, is the fruit of her long-time interest and continued personal journey toward spiritual, emotional, relational, and physical wellbeing.

COACH WITH VICKI
SCHEDULE WITH VICKI
SCHEDULE YOUR CALL
---
BACK TO ALL COACHES