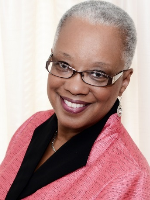 "A note inside one of my kitchen cabinets reminds me: 'God can dream a bigger dream than I can dream for myself.'  Coaching affords one the inspiration, motivation and courage to take the action necessary to realize those dreams.  Serving as a facilitator for those moving toward what God has for them is an awesome experience." 
Rev. Shelley Stanley Smith is an International Coaching Federation (ICF) Associate Certified Coach (ACC), having received her training through the Coach Approach Skill Training (CAST). While facilitating coaching for diverse clients, her coaching focus is with individual clergy, clergy groups, and teams of clergy and congregational leaders.
Shelley is a clergy member of the United Methodists of Greater New Jersey and is the Annual Conference Secretary. As a circuit leader in the Southern Region, she coaches clergy, and as a pastor she coaches members and the extended community of the Ferry Avenue United Methodist Church. Additionally, she coaches new district superintendents and directors of connectional ministries for the Global Board of Higher Education and Ministry.
In her work with various denominations and ecumenical settings, Shelley trains clergy in coaching, supporting them in developing ICF core competency skills. Various theological seminaries have engaged her as a partner providing group and individual coaching for clergy involved in leadership development programs and discernment of call.
As a member of ICF New Jersey, she engages in continuing education and pro bono coaching opportunities. She celebrates the joy of family with her husband, Oliver Smith, Jr., two sons, a daughter-in-law, three grandchildren, and her "Stan Clan" family. Travel, genealogy, and watching old movies are some of her favorite leisure activities.

COACH WITH SHELLEY
SCHEDULE CALL WITH SHELLEY
---